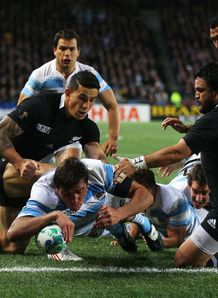 Related links
Teams
Also see
Argentina flank Julio Farias says Saturday's clash with the All Blacks at Westpac stadium represents the Pumas' biggest challenge in the Rugby Championship.
The Pumas arrived at Wellington on Sunday after a 34-hour trip that included a six-hour delay in Buenos Aires and a transfer in Auckland.
"We are trying to get used to the time [zone] as soon as possible," Farias told Planet Rugby in an exclusive interview.
"We went for a little walk around the hotel this morning. The medical staff and the coaches are working on every detail so we reach the game in the best condition possible. But I don't think the jet lag will be a problem on Saturday.
The week before playing a game against the All Blacks in New Zealand can be stressful but Farias is taking things in his stride.
"Personally, I try to take it easily, try to be calm," he explained.
"The training sessions will be productive. In physical terms, we should reach Saturday in good condition. We should enjoy the occasion on the field as much as we can" he added.
Can Argentina beat the All Blacks?
"Of course we can," replied the Argentinean.
"When we play, we play to win. One thinks about winning, about defeating the All Blacks for the first time in New Zealand.
"We will put in our best effort. We obviously know it is the best team in the world. On one hand, we respect them. On the other hand, we will try to be disrespectful on the field," Farias told Planet Rugby
The Pumas will stick to their tried and tested game plan.
"We will try to be effective defensively as we have been doing. We will try to preserve that and improve it a bit," said Farias.
"Beyond that, we should be more active on attack. It is our weakness and the coaches have been working on that since the start of the season," commented Julio.
Getting a draw against the Springboks for the first time may turn things around for Argentina in the first Rugby Championship.
"It gives us much confidence and that is what the team really needs," explained the loose forward.
"It gives us a huge confidence boost to realise that we are not so far from the level that we are aiming for. Honestly I think the draw was very good."