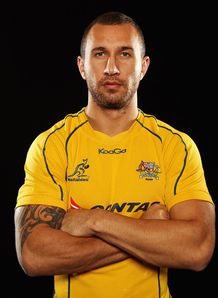 Related links
Teams
Also see
Frustrated Reds fly-half Quade Cooper's future in Rugby Union seems uncertain after another thinly-veiled attack on Wallabies coach Robbie Deans' tactics and the Australian Rugby Union.
Just days after telling AAP that the Wallabies will continue to lose fans and Bledisloe Cup Tests if they play to a boring, conservative style, Cooper used his Twitter account to vent about problems behind the scenes.
38-Test playmaker - who is currently sidelined with a knee injury but was reportedly involved in a minor car accident with fellow Wallabies Kurtley Beale and Digby Ioane at 2am on Thursday, just hours before Beale and Ioane were scheduled to fly to South Africa - also suggested he wants to join good friend Sonny Bill Williams in the NRL.
His latest complaints come at a delicate time in contract negotiations with the ARU and he may have overstepped the mark, as he subsequently removed two of his Twitter posts.
In June Cooper signed a three-year contract to remain with the Reds but it has yet to be ratified as his ARU component hasn't been finalised, promoting suggestions he may switch to League.
"Might (sic) thoughts on rugby now is who's playing ... my thoughts on other codes how the f--- do we get tickets !!" read one deleted Tweet.
"I love rugby but there's s--t going on behind and above the players the effects the whole organisation! Happens at the reds few years back," said another, referring to problems at the QRU that preceded an administrative and coaching cleanout.
When a follower told Cooper he should be given more freedom to play exciting rugby, the fly-half responded with a broadside at Deans' tactics.
"I am allowed from February to May sir," Cooper wrote, in reference to Super Rugby under Reds coach Ewen McKenzie.
Asked by another follower if he would play for the South Sydney Rabbitohs in the 2013 NRL competition, Cooper replied: "No but I want to play with @SonnyBWilliams".
Cooper revealed he would spend some time with close friend Williams, who is set to play for Sydney Roosters next season, in Japan in the coming weeks.
"I know we're competing against a lot of other sports in this country," Cooper said last week.
"If people want to go out there and play a boring brand of football then there's other guys they can pick to do that.
"I'd much rather go down swinging and throwing the punches to put yourself in a winning position than come out saying we kept it close."
Cooper insisted in an interview on Sunday that his comments were not a direct attack on Deans, but rather the result of his frustration with the entire Wallaby set-up at the moment.
"There's a lot of people who are afraid to say what they feel so they just go along with it and nothing is going to change," he told AAP.
"That's why I feel so strongly as a player. I don't want to be involved in the toxic environment, and that's how it is at the moment.
"It's an environment where things aren't going according to plan and everyone is looking to point the finger," he explained.
"All I want to do is fix the problems and get on with it and win rugby games," the 24-year-old said.
"I'm very respectful to Robbie and I'm very thankful to Robbie as well for giving me the opportunity that he has.
"But for me it's about bettering myself and bettering the country and I'm just sick of losing to the All Blacks. I hate losing," he said.
Cooper added that having confidence in the Wallabies' plans is crucial if he is going to make a serious commitment to staying in Union.
"I don't want to come across as a mercenary but I feel very strongly about how this is run because I'm part of it and I want to succeed," he said.
"There would have to be big things to take me away from the game but at the same time I don't want to be a pawn in things that aren't moving forward," he said.