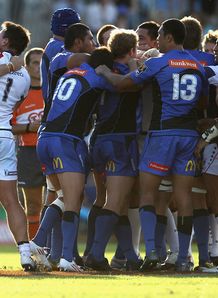 Related links
Teams
Also see
The Super Rugby season will begin a week early for four Australian sides next season to cater for the British and Irish Lions tour later in the year.
The fixtures were announced by SANZAR on Friday in a new-look draw which features a staggered start and staggered resumption after the June internationals.
The Australian teams begin one week earlier, and close one week later, as well as resuming two weeks later in July after the international window in order to manage the extended Lions' schedule.
The Rebels and the Force kick off a truncated Round One in Melbourne on February 15, with the Brumbies meeting the Reds in Canberra a day later.
Four of the New Zealand franchises start their campaigns with derby action the following weekend, with defending champions the Chiefs facing the Highlanders in Dunedin.
The Hurricanes and the Blues, under new coach Sir John Kirwan, are in action the following day (Saturday) in Wellington. The Crusaders have a bye, so won't get their season under way until they travel to Auckland to take on the Blues on Friday, March 1.
The Southern Kings kick-start their debut season in the tournament at the Nelson Mandela Bay Stadium against the Western Force at the end of a round otherwise studded with conference derbies.
The season opens in South Africa with the North-South derby at Loftus Versfeld where the Bulls play host to 2012 conference winners, the Stormers. Last season's finalists, the Sharks, travel to Bloemfontein to meet the Cheetahs.
As was the case this year, the draw includes a three-week break in June, when the All Blacks will be in action in a three-Test series against France.
Because the Lions tour of Australia involves Tests on different days to the normal June in-bound schedules, there will be two other shortened rounds.
Round 17 beginning on June 7 will feature only Australian teams, while round 19 starting on July 5 will have only New Zealand and South African teams in action.
The play-offs begin on the weekend of July 19, with the final scheduled for August 3.
2013 Super Rugby draw (host city in brackets):
Round One (Australian teams only)
February 15: Melbourne Rebels v Western Force (Melbourne)
Feb 16: Brumbies v Reds (Canberra)
Bye - Waratahs
Round Two
Feb 22: Highlanders v Chiefs (Dunedin)
Feb 22: Rebels v Brumbies (Melbourne)
Feb 22: Bulls v Stormers (Pretoria)
Feb 23: Hurricanes v Blues (Wellington)
Feb 23: Reds v Waratahs (Brisbane)
Feb 23: Cheetahs v Sharks (Bloemfontein)
Feb 23: Kings v Western Force (Port Elizabeth)
Bye - Crusaders
Round Three
March 1: Blues v Crusaders (Auckland)
March 1: Reds v Hurricanes (Brisbane)
March 2: Chiefs v Cheetahs (Hamilton)
March 2: Waratahs v Rebels (Sydney)
March 2: Bulls v Force (Pretoria)
March 2: Sharks v Stormers (Durban)
Byes - Brumbies, Highlanders, Kings
Round Four
March 8: Hurricanes v Crusaders (Wellington)
March 8: Rebels v Reds (Melbourne)
March 9: Highlanders v Cheetahs (Dunedin)
March 9: Brumbies v Waratahs (Canberra)
March 9: Stormers v Chiefs (Cape Town)
March 9:
Kings v Sharks (Port Elizabeth)
March 10: Blues v Bulls (Auckland)
Bye - Force
Round Five
March 15: Highlanders v Hurricanes (Dunedin)
March 15: Waratahs v Cheetahs (Sydney)
March 15: Kings v Chiefs (Port Elizabeth)
March 16: Crusaders v Bulls (Christchurch)
March 16: Reds v Force (Brisbane)
March 16: Sharks v Brumbies (Durban)
Byes - Blues, Rebels, Stormers
Round Six
March 22: Chiefs v Highlanders (Hamilton)
March 23: Crusaders v Kings (Christchurch)
March 23: Reds v Bulls (Brisbane)
March 23: Force v Cheetahs (Perth)
March 23: Sharks v Rebels (Durban)
March 23: Stormers v Brumbies (Cape Town)
March 24: Waratahs v Blues (Sydney)
Bye - Hurricanes
Round Seven (Easter)
March 29: Highlanders v Reds (Dunedin)
March 30: Hurricanes v Kings (Wellington)
March 30: Chiefs v Blues (Hamilton)
March 30: Brumbies v Bulls (Canberra)
March 30: Cheetahs v Rebels(Bloemfontein)
March 30: Stormers v Crusaders (Cape Town)
March 31: Waratahs v Force (Sydney)
Bye - Sharks
Round Eight
April 5: Blues v Highlanders (Auckland)
April 5: Brumbies v Kings (Canberra)
April 5: Sharks v Crusaders (Durban)
April 6: Hurricanes v Waratahs (Wellington)
April 6: Force v Rebels (Perth)
April 6: Cheetahs v Stormers (Bloemfontein)
Byes - Bulls, Chiefs, Reds
Round Nine
April 12: Highlanders v Brumbies (Dunedin)
April 13: Chiefs v Reds (Hamilton)
April 13: Blues v Hurricanes (Auckland)
April 13: Rebels v Kings (Melbourne)
April 13: Force v Crusaders (Perth)
April 13: Stormers v Sharks (Cape Town)
April 13: Bulls v Cheetahs (Pretoria)
Bye - Waratahs
Round Ten
April 19: Hurricanes v Force (Wellington)
April 19: Waratahs v Chiefs (Sydney)
April 20: Crusaders v Highlanders (Christchurch)
April 20: Reds v Brumbies (Brisbane)
April 20: Sharks v Cheetahs (Durban)
April 20: Kings v Bulls (Port Elizabeth)
Byes - Blues, Rebels, Stormers
Round 11
April 26: Hurricanes v Stormers (Wellington)
April 26: Reds v Blues (Brisbane)
April 27: Chiefs v Sharks (Hamilton)
April 27: Brumbies v Force (Canberra)
April 27: Bulls v Waratahs (Pretoria)
April 27: Cheetahs v Kings (Bloemfontein)
April 28: Crusaders v Rebels (Christchurch)
Bye - Highlanders
Round 12
May 3: Blues v Stormers (Blues)
TBC: Rebels v Chiefs (Melbourne)
May 4: Highlanders v Sharks (Dunedin)
May 4: Force v Reds (Perth)
May 4: Kings v Waratahs (Port Elizabeth)
May 4: Bulls v Hurricanes (Pretoria)
May 5: Brumbies v Crusaders (Canberra)
Bye - Cheetahs
Round 13
May 10: Chiefs v Force (Hamilton)
May 10: Reds v Sharks (Brisbane)
May 10: Cheetahs v Hurricanes (Bloemfontein)
May 11: Blues v Rebels (Auckland)
May 11: Waratahs v Stormers (Sydney)
May 11: Kings v Highlanders (Port Elizabeth)
Byes - Brumbies, Bulls, Crusaders
Round 14
May 17: Hurricanes v Chiefs (Wellington)
May 17: Rebels v Stormers (Melbourne)
May 17: Force v Sharks (Perth)
May 18: Crusaders v Blues (Christchurch)
May 18: Waratahs v Brumbies (Sydney)
May 18: Bulls v Highlanders (Pretoria)
May 18: Cheetahs v Reds (Bloemfontein)
Bye - Kings
Round 15
May 24: Chiefs v Crusaders (Hamilton)
May 24: Rebels v Waratahs (Melbourne)
May 25: Blues v Brumbies (Auckland)
May 25: Force v Highlanders (Perth)
May 25: Kings v Cheetahs (Port Elizabeth)
May 25: Stormers v Reds (Cape Town)
May 25: Sharks v Bulls (Durban)
Bye - Hurricanes
Round 16
May 31: Crusaders v Waratahs (Christchurch)
May 31: Brumbies v Hurricanes (Canberra)
June 1: Highlanders v Blues (Dunedin)
June 1: Reds v Rebels (Brisbane)
June 1: Stormers v Kings (Cape Town)
June 1: Cheetahs v Bulls (Bloemfontein)
Byes - Chiefs, Force, Sharks
Round 17 (Australian teams only)
June 7: Brumbies v Rebels (Canberra)
June 9: Force v Waratahs (Perth)
Bye - Reds
Round 18 (New Zealand/South African teams only)
June 28: Chiefs v Hurricanes (Hamilton)
June 29: Highlanders v Crusaders (Dunedin)
June 29: Sharks v Blues (Durban)
June 29: Bulls v Kings (Pretoria)
June 29: Stormers v Cheetahs (Cape Town)
Round 19 (New Zealand/South African teams only)
July 5: Crusaders v Chiefs (Christchurch)
July 6: Hurricanes v Highlanders (Wellington)
July 6: Cheetahs v Blues (Bloemfontein)
July 6: Kings v Stormers (Port Elizabeth)
July 6: Bulls v Sharks (Pretoria)
Round 20
July 12: Crusaders v Hurricanes (Christchurch)
July 12: Rebels v Highlanders (Melbourne)
July 13: Blues v Chiefs (Auckland)
July 13: Waratahs v Reds (Sydney)
July 13: Force v Brumbies (Perth)
July 13: Sharks v Kings (Durban)
July 13: Stormers v Bulls (Cape Town)
Bye - Cheetahs
July 19/20: Qualifiers
July 26/27: Semi-finals
Final: August 3