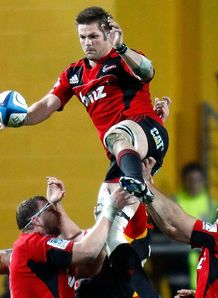 Related links
Teams
Also see
The Crusaders will be run by a South Island provincial union-based group from 2013, the New Zealand Rugby Union (NZRU) announced on Tuesday.
The licence has been awarded to the Crusaders Limited Partnership which is owned by all six Crusaders unions - Canterbury, Tasman, South Canterbury, Mid Canterbury, Buller and West Coast.
"We are pleased to confirm today details around the Crusaders licence which will ensure that the Crusaders begin next year better equipped to face the challenges of the highly competitive market that rugby operates in," said NZRU Chief Executive Steve Tew.
"We set out on this process to deliver a more sustainable commercial model for Super Rugby franchises so they can better look after the interests of teams, fans, sponsors and rugby and we are thrilled the Crusaders now join the Hurricanes in that regard."
A licence to manage the Hurricanes was earlier awarded to a Wellington group comprising the Wellington Rugby Football Union and local investors.
"We believe that the new Crusaders Limited Partnership is a really positive step forward for the Crusaders," said current Crusaders chairman Murray Ellis. "It puts us on a sound financial footing and provides certainty and stability for the future.
"We are particularly proud that the licence agreement for the Crusaders will see rugby continuing to 'own' rugby. We believe that in our case, the future of the Crusaders is best served by the involvement of all the regional provincial unions, and that is what we've managed to achieve."
Each of the provincial unions will make a capital contribution to the Crusaders Limited Partnership (totalling $200,000) as well as a loan contribution (totalling $300,000), meaning that the Crusaders Limited Partnership will begin its operation with $500,000 in funds.
Christchurch based-businessman and keen Crusaders supporter Brent Francis is providing a guarantee to satisfy the NZRU that the Crusaders Limited Partnership should be able to meet its ongoing financial commitments during the term of the licence.
"I am thrilled to be involved in the new Crusaders limited partnership," said Francis. "As a Crusaders fan, I am happy to be able to help ensure the future viability of this great rugby organisation.
He will be one of the six directors on the new Crusaders (GP) Ltd board. The other directors will be two nominated by the CRFU, one nominated by the other five unions and two independents.
"We are confident the injection of new capital, stronger governance and fresh thinking will improve the performance of both the Crusaders and the Hurricanes and that will be good for rugby," said Tew.
"We remain confident of a bid being submitted for the Blues to allow a licence to be issued in 2014 and are also hopeful of a bid for the Chiefs."