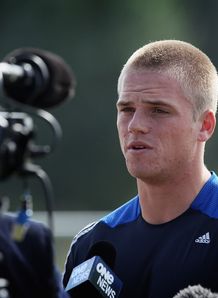 Related links
Teams
Out of favour Blues fly-half Gareth Anscombe, who is eligible to play for Wales, insists he is keen to further his career in New Zealand.
Anscombe was recently not offered a Super Rugby contract for 2013 by new coach John Kirwan but revealed that going overseas was a last resort.
"I want to stay and give New Zealand rugby a good crack. I'm pretty determined I will stay around," he told Sportal.
The 21-year-old pivot is in good form and passed 100 points in this year's ITM Cup in Auckland's 43-30 win over Wellington on Saturday.
Anscombe scored 28 points in that match and notched 20 points in Auckland's 43-32 triumph over Taranaki on Wednesday.
He revealed that his agent is negotiating with other franchises but his main aim is to focus on doing well for Auckland with the hope of being recruited for next year's Super Rugby competition.
"I've said I could be playing against them next year which I would like to do," he said.
Anscombe revealed he was informed last Sunday that he was not part of the Blues' plans.
"They told me their reasons," he said.
"They were pretty adamant.
"I'm really disappointed, gutted, but unfortunately that is rugby sometimes."
Anscombe admitted he was trying to use the experience to prove his detractors wrong.
"I can only do my talking on the field," he said.
His fall from grace with the Blues is something which he did not expect.
"This year was certainly very tough for a 20-year-old first five (fly-half) learning the ropes," explained Anscombe.
"We didn't perform and there are no excuses for that. I thought I was still growing and developing but rugby is pretty cut-throat and they feel like they need to win next year, and they do, and didn't feel I was the man for the job.
"I'd like to think my career isn't washed up just yet."