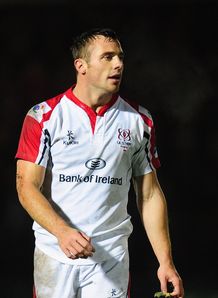 Related links
Teams
Also see
Ulster coach Mark Anscombe is confident his team will still make the Heineken Cup quarter-finals despite Saturday's home loss to Northampton.
Ulster's 13-game unbeaten run came to an end in dramatic fashion at Ravenhill as Saints won 10-9, but the Belfast still control Pool 4, five points clear of Northampton but Castres could move within striking distance if they beat Glasgow on Sunday.
"It's sad because it's our first loss but we got beaten by a better team," said Anscombe.
"We're still a good team and we'll bounce back. It happens and you've got to acknowledge it and respect it as they did well and deserved their victory. We've got to go back and look at what we need to do better.
"Our execution was poor and we suffered from it. They got 10 points up in the first 18 minutes. We held them out well but I think we created enough opportunities to score points and we weren't patient enough and didn't have enough composure at crucial times.
"We tried to force it and they brought a little more passion than us to start with. Their physicality at the start got them going. We weren't complacent but we were a little more passive early on and we created enough opportunities but we just weren't composed enough at crucial times and we didn't take our points when we had opportunities.
"Our destiny is still in our own hands.
"We're not relying on other teams to see how it goes, if we win our last two games we'll qualify. Not every team has that opportunity, we have and we need to take it."
Meanwhile, Northampton Director of Rugby Jim Mallinder hailed his pack for the way the responded to the heavy loss to Ulster at home a week ago.
"We had the determination to put the last game right," said Mallinder.
"We were bitterly disappointed with the first game and we got a lot of criticism from various places and I think as a team we were determined to put that right.
"The front five were outstanding. The set-piece went really well as did the breakdown. Last week we couldn't get any quick ball and we didn't get on the front foot at all. In this game from the start we were on the front foot with our forwards working really hard and we got some good width in our game.
"We could have possibly scored another couple of tries. If we look back over the full 80 minutes I thought we deserved it."