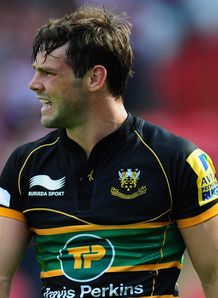 Related links
Teams
Northampton full-back Ben Foden believes his team has a better chance of attaining success this season.
Foden feels the new players in the squad have improved the Saints from 2011/12's campaign.
"I feel better about this squad than I have in previous years," he told BBC Sport.
"There's a lot more strength in depth.
"We've been written off but we stand a better chance this year.
"The new players have got some big shoes to fill but we've still got the same attitude and mentality."
The 27-year-old, who has played in 30 Tests for England, is aware that as one of the more experienced players at Saints he is a role-model to the youngsters.
"I have to realise there's an extra degree of responsibiltity with guys looking at me to lead and I'm ready to take that on," he said.
Meanwhile, director of rugby Jim Mallinder is excited about the team's potential after they got their Aviva Premiership campaign off to a fine start with a 24-19 win at Gloucester last week.
Mallinder said even though they are without Courtney Lawes, James Craig, Jamie Elliott and Sam Dickinson, who are all injured, he is happy that the options throughout the team have increased on last season.
"We have made a few changes this year," he explained.
"A couple of the senior centres leaving has made a difference, but the players we've brought in are quality and give us something else in how we play the game.
"We've got a couple of people still injured and they're making good progress.
"You've got to look at rewarding the good players, but there was a lot of good play last Saturday as well, and you don't want to make too many changes."