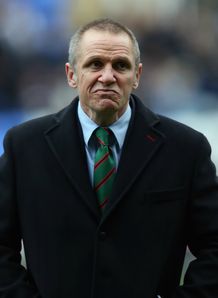 Related links
Teams
London Irish boss Brian Smith has admitted that the club will struggle to hold onto Alex Corbisiero and Jonathan Joseph for next season.
Both England internationals are products of the Exiles academy, but with limited resources compared to their league rivals and currently in the midst of a relegation battle, the signs do not look promising.
Corbisiero has been touted as a replacement for Soane Tonga'uiha at Northampton, with Jonathan Joseph also linked with Bath.
"From the moment I set foot back in the club, I made it clear to those two boys that I wanted them to stay," Smith told the Daily Mail.
"But I've got to be honest, I don't think we're going to keep everyone at the club. I would like to, but the fact is that over the past few seasons, 10 or 12 big-name players have left the club. There are probably still a couple more to go.
"It is disappointing, but that is just a fact of life.
"There are other clubs with bigger cheque-books, there are other clubs who are very pro-active in tapping-up players, and I've absolutely no doubt that a number of our lads have been worked on since very early in the season.
"We have made very, very robust offers to those two guys. They have known from day one that I've wanted them to stay. I've peppered their agents with calls, but to be fair neither of them have led me up the garden path, they have made it clear that they are keen to play the field in January."