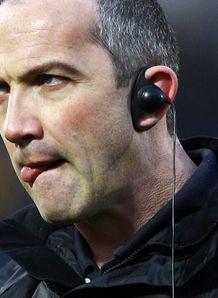 Related links
Teams
Harlequins boss Conor O'Shea was happy that his side got the job done in tough conditions in their 26-15 win over London Irish.
A narrow first 50 minutes saw the two sides remain neck and neck before a try from scrum-half Danny Care gave Harlequins a convincing lead, with Irish unable to claw back the deficit.
"We made too many handling errors and unforced errors early on. We'd take penalties and then give dumb ones back," said O'Shea.
"I tried catching some of the balls beforehand and it was tough out there. Offloads are harder and balls squirt out. These are difficult days in the season and it's a 22 game marathon.
"Their last 20 minutes have been an issue. I can now sit back and support them [Irish] as we don't have to play them again this season, because I have a lot of time for them and I want them to do well.
"It's going to be very tough for them but when you look at their home games and the run-in with Sale and Welsh at home they have an advantage, but I think 30 points will be the minimum.
"We have tough games coming up against London Welsh and Connacht and if we do well in those we can get clear water in the league and a Heineken Cup quarter-final, so we have a big two weeks ahead.
"Sometimes we're playing brilliant rugby and sometimes we're not, but we're getting the job done."
London Irish director of rugby Brian Smith was content with his side's effort but disappointed to come away with nothing after remaining with seven points until the final five minutes.
"It's disappointing because I felt our effort was worthy of something, but we're big boys and we'll dust ourselves down," said Smith.
"Quins rolled the dice inside our 22 twice and they came up trumps. We look at their side and they're probably a bit further along the developmental path than we are."
"I thought our scrum was a lot more competitive than the scoreboard shows, but we've just got to get on with it."
"Normally for a Penalty Try it seems to be the third penalty, but Greg's [Garner] a young referee and has laid down a marker there which is fair enough."
Irish now sit just one point clear of relegation at the bottom of the Aviva Premiership table, but Smith is not ready to hit the panic button just yet.
"I've been in a relegation scrap before with Bath and the next season we were top of the league. You can't keep looking over your shoulder and have to focus on yourselves.
"The last 20 minutes have been a problem and that's the nature of the game. It's an arm-wrestle and you have to stay in the contest."
"It's going to be a rollercoaster and everything will change on certain results, but we have to improve our performance because we were overshadowed upfront."
"Sometimes in these dogfights there's less pressure on you when you're the bloke at the back of the pack, but it depends how you see things. We've got a rock solid coaching staff and senior players and it's our job to make sure the young players are as well."
by Ben Coles
@bencoles_