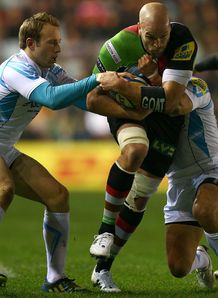 Related links
Teams
Harlequins director of rugby Conor O'Shea was left disappointed with his side's performance on Friday after they beat Worcester 22-19 the Stoop.
The table-toppers had to rely on seventeen points from the boot of Nick Evans and the showing left O'Shea far from impressed with their cohesion.
"Disappointing game - no momentum," was his summation of the Aviva Premiership fixture.
"It was the second week in a row that the opposition have given away 20 penalties against us.
"I hope their front five are all right because every single time there was momentum in the game there was a player getting injured. I hope they're OK.
"But we had plenty of our own things we didn't do well. It's a win - that's all you can say. We're pretty disappointed."
O'Shea added: "There was just no flow, no momentum, no nothing in the game.
"It's a good lesson. We've won it and the guys dug themselves out but there's a lot of frustration in the way that game flowed. Twenty penalties is a heck of a lot.
"It wasn't a good game of rugby, not enjoyable but we'll take the four points."