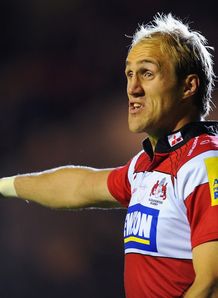 Related links
Teams
Gloucester speedster Olly Morgan is in high spirits as he continues his comeback from knee ligament damage sustained back in January.
The England full-back picked up the severe injury against Worcester back on January 7, his second major injury within a year after dislocating his shoulder the previous April.
As he edges closer towards a comeback, team-mate James Simpson-Daniel and Director of Rugby at Gloucester, Nigel Davies, believe Morgan could be back in action early next year.
"He's got the hunger back and it's great to see," Simpson-Daniel told thisisGloucestershire.co.uk.
"It's only natural with an injury like this that there will be dark times - anyone pretending otherwise is kidding themselves.
"But Morgs has handled all of that really well, and now he's got that edge back.
"He's been working hard in the gym and he looks pretty big, and he's been working hard on his passing.
"When a player gets to that stage you know they are making good progress, and that's what everyone wants to see.
"We're not putting pressure on him, but we're behind him every step of the way and we can't wait to see him back on the field."
Davies added: "In the last five to six weeks he's been making good progress, he's walking around, starting to pass a ball.
"It's a lot more positive than it was previously.
"It's a particularly nasty injury, it's not straightforward in terms of recovery, there's quite a few elements to it.
"But he's been fantastic, it's very difficult to keep your head up, but he's done that very well, and all credit to him really.