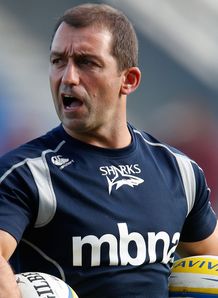 Related links
Teams
Also see
According to reports in the English press, Bryan Redpath is set to be demoted from the top job at Sale to accommodate John Mitchell's arrival.
Redpath, who joined the Sharks in pre-season from Gloucester, apparently has "no issue" with working alongside the experienced head coach.
However it would be hard to imagine Mitchell coming in as a number two, which means a possible step down is likely for the Scot.
Mitchell watched Sale defeat Cardiff Blues last week and is expected to travel to Montpellier with the squad for Round Two of the Heineken Cup.
"John may come to France this weekend. That sort of stuff is being discussed - how he will involve himself. I'm trying to concentrate on preparing the players and not really worry about other elements," Redpath told the Express.
"Every coach needs someone to bounce stuff off.
"We just have to concentrate on knuckling down and doing the job. Our egos have to be put to one side.
"I have no issues with John at all. My role won't change in many ways."
Meanwhile, Redpath spoke to the Guardian and explained that the club's form is the most important issue in the whole setup as the Sharks look to back up their Blues victory.
"It's about us getting back on track and winning some games, and we can't worry about reputations at the moment. Will that change over the next few months? Well, I'll worry about that over the next few months," he said.
"Obviously there's lots of chat about John and he's got a wealth of experience and if it does get sorted out we'll tap into that as much as possible. The rugby club's bigger than me. So I've got to make sure I do my end of the bargain and prepare the players properly to perform, and not get too bogged down with who potentially will be added to the staff and the squad."