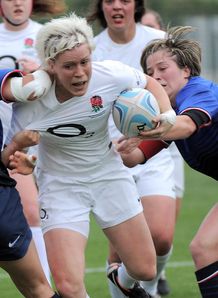 Round Three of the Women's Six Nations tournament will determine not only who will be in contention for the overall trophy, but can also determine which nations will automatically qualify for the Rugby World Cup in 2014.
Fixtures:
Saturday, Feb 23:
Scotland v Ireland, Lasswade, 14:00
England v France, Twickenham, (after Men's match)
Sunday:
Italy v Wales, Benevento, 13:30 (GMT)
Bottom-of-the-table Scotland will face current leaders Ireland at home. After terrible conditions underfoot in their last match, Scotland will be hoping for some clear weather to promote a more attacking style of play. Scotland will need to minimize their error rate and look to convert territory and pressure into points if they are to have a chance.
Scotland's forwards need to be prepared to do battle against a dominant Ireland pack that was relentless against England. Ireland created turnover ball in the ruck and maul situations three times within the first half and will look to do much of the same this week.
Ireland need to remain focused on the task at hand and keep the score board ticking over as the game progresses to extend their lead at the top of the table.
The England v France match was deemed to be the match of not only Round 3 but of the overall tournament before the Six Nations even started. Who would have thought these two heavy weights would be sitting third and fourth on the ladder at this stage.
France, who lost narrowly to Italy in a tightly-contested affair in Round One, came back firing against Wales, defeating them 22-0. They are a team that know how to find the try line and will need that white line fever this weekend at Twickenham.
Look for France to really challenge at set piece time and at the breakdown. Their back row combination of Tombre, Andre and Grand will work together as a unit to clear out the rucks on attack and create crucial turnovers on defence. It will be the battle of the breakdown that will ultimately win this game. The team that can gain ascendancy in this area will take home the victory.
England have made three changes after their recent 25-0 loss to Ireland.
"We have made a few changes for this match but we have retained 22 out of the 23 players who played against Ireland and they now have the opportunity to put right a poor performance nearly two weeks ago," said Head coach Gary Street.
Every single player both in the First XV and on the reserves will need to fire for England. Their set piece and forwards play will determine if their backline will get good front foot ball. Playing at home in front of a packed Twickenham crowd should be an adrenalin rush for the team and England will not want to disappoint their fans.
In the final match this weekend, second-placed Italy return home after success in Scotland to face an underwhelming Wales side.
Wales are yet to record a victory this tournament and will face a steely and determined Italian side who will benefit from their boisterous home crowd advantage.
Wales on the other hand can take merit knowing that they challenged current leaders Ireland in the first round but were completely outplayed by France in Round Two . They will need to bounce back immediately if they are to compete with Italy, who have found a way to win, despite all odds and weather conditions.
Having defeated both France and Scotland they will be confident going into this match. They will use this as motivation to ensure ball possession, territory and most importantly score board stats will lie in their favour after 80 minutes of rugby this Sunday.
By Amanda Love