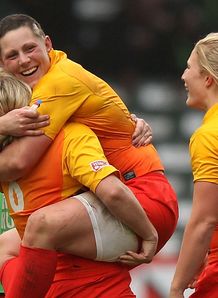 The second leg of the IRB Women's Sevens World Series proved how extremely close the top eight sides are with sudden death play-offs, unexpected finalists and last minute victories.
It's what makes Sevens rugby so exciting and this tournament did not disappoint.
England, with the return of some key players, won the Cup final after defeating host nation the United States 29-12.
In a dominant display of rugby over the entire weekend with superb performances by Jo Watmore and Heather Fisher, England are definite favourites leading into the next event in Guangzhou, China.
"I am very proud of the girls. It's been a really tough few days. It was hard playing the same teams on the second day but we came through it really well," said England coach Barry Maddox.
"It was a great final and USA wanted to play and it was an exciting game for everyone watching."
United States skipper Vanesha McGee also took a lot of positives out of this tournament.
"We wanted to win but we are only going to get better from here," she said.
"The home crowd was amazing for us and they definitely inspired us. There is nothing between the top eight sides - everyone is so tight. We are all fighting in every game."
In a thrilling play-off for third position Australia defeated trans-Tasman rivals New Zealand 17-12 in sudden death with a try to Ellia Green.
"We are happy with the overall performance over the weekend. We didn't play our best game when it was needed in the semi-final but we came back out and took third which was fantastic," said Australian coach Chris Lane.
Russia defeated Netherlands 29-10 in the Plate final after such a positive display of rugby athleticism and tries to Baizat Khamidova who currently leads the IRB top try-scorer this season after two events.
In other results, Brazil won the Bowl final with an impressive 12-7 victory over Japan. Japan were able to cross the try-line in the dying seconds of the match, but Brazil battled and were able to hold the ball up denying Japan the equalizer.
Now that Houston is done and dusted, we can look forward to the third leg of this World Series in China on the 30-31 March 2013.
Unpredictability is a common occurrence in the world of Sevens rugby and I have a feeling that some major upsets are on the cards in China.
By Amanda Love