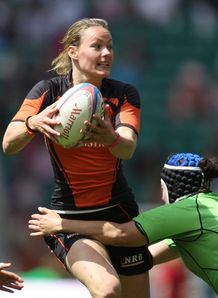 On February 1, Houston will host the second leg of the new IRB Women's World Series sevens rugby event, which mirrors the IRB Men's tournament at four locations around the globe. Amanda Love previews the action in Texas.
The World Series provides nations with quality opposition at the highest level and further exposure for teams in developing countries. There are six core series teams and six invitational sides, who compete in three round robin pools at each event. With all roads leading to Rio at the Summer Olympics in 2016, it is an exciting time to be a part of Women's Sevens rugby.
The saying goes things are bigger in Texas, and the results of this tournament will prove critical in final World standings leading into the Sevens Rugby World Cup in Moscow June 2013.
As anything can happen on the day, especially in sevens rugby, let's see what the Pool stages have to offer in Houston.
Pool A has been deemed the toughest Pool in this tournament. With three core sides in the Netherlands, England and New Zealand there is going to be some exciting attacking rugby in this pool. Trinidad Tobago is the only non-core side in this pool and will face an uphill battle against these rugby heavyweights.
New Zealand, still brimming with confidence after winning the Dubai series, understand that every Pool game is crucial. Coach Sean Horan has made six changes to the squad which sees the return of Black Fern Selica Winiata into the Sevens side. Her tireless defence and ability to pull out something special in tight games will see her link in well with Carla Hohepa and New Zealand's leading try scorers Kayla McAlister and Portia Woodman (5 tries each).
England see the return of their XV's players back into the Sevens side and will be looking to stamp their authority early on in this competition. Reigning IRB Women's Sevens Challenge Cup Holders and recently defeating New Zealand in a 3-nil series white wash in the XV a side game, England will fancy their chances not only in this pool but to take out the Series. Look for Alice Richardson to lead from the front to take this side to victory.
Netherlands will prove to be quite a handful in this pool, if sides underestimate them. If they can get the ball to Kelly van Harskamp (2 tries) who runs amazing lines with ball in hand, who knows how these games could go? The Dutch will need to be clinical on defence making all first up tackles if they are going to truly threaten in this pool.
Trinidad Tobago really could cause some major upsets , however it does seem unlikely given their opposition. They will put up a valiant effort and gain much needed experience and exposure to the game.
Pool B has quite an interesting blend of extraordinary pace, possible upsets and a rivalry that goes back beyond any sevens event when we see host nation United States take on their neighbours Canada. The US recently announced that 16 players are now training full-time as professional athletes so they will want to perform in front of their home crowd and look to excite them right from the beginning in their opening match against Canada.
The Canadians should be upset after the sixth placing in Dubai where they drew with New Zealand during the pool stages, only to be knocked out by Australia in the cross overs. Look for Magaili Harvey and Bianca Farella to inspire the Canadians in this pool.
South Africa, who were surprise finalists in Dubai, showed some amazing pace in Phumeza Gadu. Look for Gadu to be unleashed into open space. If they can get up in this Pool, the Lady Springboks could be a serious contender.
Argentina's ladies will prove to be fiercely competitive under new coach former Puma's Sevens star Santiago Gomez Cora. They come up against stiff competition in this pool but will be better for it leading into the South American Sevens Championships which will provide the final qualifier for the Women's Sevens Rugby World Cup in Moscow.
Pool C has a more predictable top two finishers in this pool. However not taking anything away from the invitational sides, they could ruffle a few feathers and cause major upsets.
Fourth seed Australia, should look to top this Pool comfortably with their biggest test coming up against the physicality of the Russians who were surprising in Dubai. When asked who he was most looking forward to playing in the Pool rounds Australian Head Coach Chris Lane said "It will be an interesting pool, with our three opponents all playing different styles of games. We have not played Russia yet, so I am probably looking forward to playing them, to test ourselves against another unknown. They are our last game of the first day so we have to focus on Japan and Brazil before we worry about Russia."
Without Rebecca Tavo look for experienced campaigner Tricia Brown to lead the Wallaroos and demand nothing but the best from her young team.
Russia's Navrat Khamidova found her way easily across the try line in Dubai dotting down five times in total. Look for the Russians to use her as strike weapon as they continue to build quite a solid platform based on physicality before using the width of the field to score in Houston.
Brazil are used to winning in South America, so expect them to come out with a lot of passion and flair for the game. It will be interesting to see how they come up against the Wallaroos who are a very clinical side to see the different strategies used by both teams.
Japan will take this opportunity with both hands, despite being relative new comers into the International women's seven circuits.
Japan have nothing to lose and everything to gain so this makes them quite a dangerous opposition as they are relatively unknown. They will use this tournament to cement combinations and tactics leading into the next series in Guangzhou China.
The event in Houston is going to bigger and better with these women show casing their amazing skill, deceptive line plays, athletic ability, physical prowess and genuine love for the game of rugby. If you are in the Houston area you need to get to BBVA Compass Stadium February 1-2!
By Amanda Love