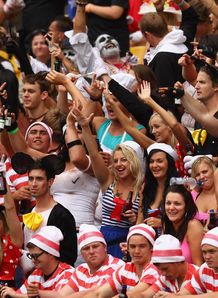 Related links
Teams
Whilst there'll be no change next year, moves are underway to clean up the Wellington Sevens now that it's an Olympic sport.
The New Zealand leg of the HSBC Sevens World Series has gained a reputation as being a non-stop party.
And according to reports, drunken fans at the event have left the IRB unimpressed - prompting calls for the Sevens spectacle at Westpac Stadium to become booze-free.
General manager Steve Walters says they've been surveying the rugby community as to whether they think limiting alcohol, or introducing a 'dry zone' for part of the first day, is a good idea.
"Some people said that's a great idea, some people said no they want to be able to see all the rugby - so we've taken that into consideration and we'll review that further and may consider that for 2014," he said.
"We've run this tournament for 13 years and it's been hugely successful. It's that small few that do spoil it for others.
"We had 14 arrests out of just under 70,000 people for 2012 so it's a very small amount of people. But obviously those are the people that make it worse.
"So our role is to make sure that we let people know in advance about expectations of that behaviour and coming up with an attitude to enjoying themselves and not spoil it for others.''