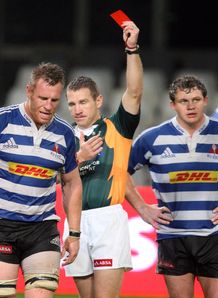 Sharks coach John Plumtree conceded that the two red cards shown to Western Province was crucial in deciding the outcome of their 43-27 Currie Cup victory.
Loose forwards Tyrone Holmes and Jebb Sinclair were both sent off for punching in a match which was played in heavy underfoot conditions caused by sweeping rain at Kings Park.
The game was a tight affair for the better part of an hour, with the hosts stretching their 16-12 half-time lead to 22-12 in the 53rd minute when Sinclair dropped Jean Deysel to the ground in the first incident.
Holmes followed suit 15 minutes later, receiving his marching orders for hitting Botes, while a yellow card for Wilhelm van der Sluys four minutes from time ensured the Cape side ended with 12 players.
"The red cards obviously had a huge influence on the game, which is unfortunate and not nice to see," said Plumtree.
"But the referees have zero tolerance when it comes to punching and tip-tackling and that kind of thing. You just can't do it.
"So, it was bad for them, but made our task a bit easier."
Plumtree said the Province discipline was a worry for the competition and was disappointing to see.
"You don't want to see it, because it's obviously not something good," he said.
"You've got refs, you've got assistant refs, you've got TMOs now watching, so players just can't get away with it.
"Possibly, the yellow card at the end was a bit harsh, but things just weren't going for them. That can happen. It was a pretty niggly sort of game."
The Sharks outscored their opponents by four tries to two thanks to a brace of scores by flanker Jacques Botes, added to a Keegan Daniel effort and a penalty try.
Province's tries came in the form of a double from scrumhalf Louis Schreuder.
"I think everyone added a little bit to the performance," Plumtree said.
"Obviously, the tactical kicking was important, territory was the main emphasis from both teams.
"We knew we were up against a pretty organised Western Province forward pack. I think we contained them for a lot of the game.
"I thought we got our tactics right tonight. Meyer [Bosman], Riaan Viljoen and Cobus Reinach had a huge role to play in the end."
The Sharks' boss, whose side are now second on points difference at the summit of the log, is desperate to back up their showing with another good one against the table-topping Lions in Johannesburg next week.
"The Lions have probably improved 30-40 percent since we played them last, they won at Loftus and now they won in Bloemfontein," he said.
"We know how hard it is to win at Ellis Park.
"Hopefully, we'll put it all together and put on a performance that we're proud of."