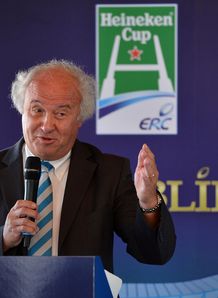 Related links
Also see
The latest round of talks between the stakeholders of European club rugby has failed to find a solution to the crisis facing the future of European tournaments.
The Heineken Cup and Amlin Challenge Cup organisers, representatives from the six constituent Unions, Premiership Rugby and the Ligue National de Rugby (LNR), met in London for the fourth meeting of the consultation process aimed at formulating a new accord which will provide for the structure and format of European club rugby tournaments for the 2014/15 season and beyond.
Premiership Rugby and the LNR have long been at odds with their Welsh, Irish, Scottish and Italian counterparts after the English body announced in September that it had signed a new TV deal with BT which could lead to a new-look European Cup, with both they and their French counterparts stating their intent to end the current agreement in 2014.
No solutions to the current stand-off were found with further talks now planned for February 6.
"The meeting agenda included an evaluation, conducted by ERC, of the merits and the rationale for the proposed changes to the Heineken Cup and the Amlin Challenge Cup, as well as the impact on all stakeholders of any changes to the format and structure of both tournaments," read an ERC statement.
"While the evaluation provided the basis for discussion, the meeting ended without agreement. Jean-Pierre Lux, ERC independent Chairman, concluded the proceedings by calling on all parties to take time to reflect on their positions and to consider the collective objectives of the stakeholders."
Lux added his disappointment at the length of time it was taking to strike a deal, saying: "After four meetings, it is extremely disappointing for all involved that we have not yet made sufficient progress towards a new Accord.
"These tournaments have become cherished by the clubs, players, supporters and our partners. Everyone around the table remains committed to making European club rugby stronger and we are confident a solution will be found."
While February 6 is not an appointed date for talks on this issue, the board of the ERC is scheduled to meet on that date.
The structure and format of both the Heineken Cup and the Amlin Challenge Cup remain in place until the end of the 2013/14 season.