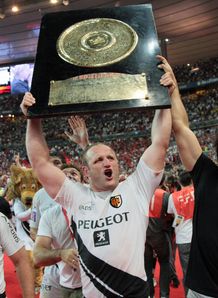 Related links
Teams
Toulouse have requested a player licence for former international hooker William Servat as they struggle to cope with a spate of injuries.
34-year-old Servat, who is currently the Toulouse forwards coach, hung up his boots at the end of last season having earned 49 caps for France.
But the veteran could feature on the Toulouse bench in Bayonne this weekend because the French champions have run out of hookers.
Gary Botha (ankle) and Christopher Tolofua (shoulder) have been sidelined through injury leaving Virgile Lacombe - who was recruited as a medical joker for Georgian Jaba Bregvadze - as the only fit hooker.
"Given our injuries, we asked the League earlier this week if it was possible to re-qualify Servat," said Toulouse president Jean-René Bouscatel, who added that they are still waiting for a reply from the LNR.