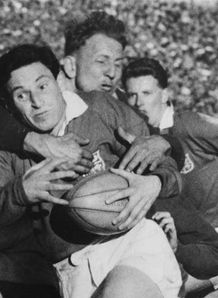 The Lions had to wait five years after the end of the Second World War before touring again, heading for New Zealand and Australia.
Sporting newly redesigned jerseys and displaying a fresh style of play, the tourists managed to win 22 and draw one of 29 matches against the two nations.
In New Zealand, the Lions held the All Blacks to a 9-9 draw in the opening Test but lost the remaining three. However, they enjoyed more success in Australia, winning both Tests.
The 1955 tour to South Africa proved more successful as the Lions drew the four-Test series 2-2.
The All Blacks provided a stern test again in 1959, beating the Lions 3-1 although the tourists proved too strong for Australia, coming out on top in both Tests.